CEO of Vietnam's biggest e-commerce site reveals his secrets to success (INTERVIEW)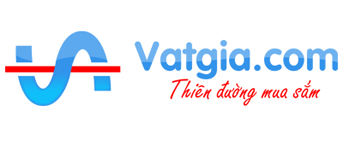 Vietnam has one of the most bullish e-commerce markets in the region. A report from the Vietnam E-Commerce and Information Technology Agency (VECITA) found that 57 percent of the Vietnamese population has bought goods or services online. 96 percent of Vietnamese people sees buying goods online as normal. By VECITA's previous estimates, the e-commerce market is currently worth $700 million and will grow to $1.3 billion by 2015.
Leading the growth of this market are e-commerce sites like VC Corp, VNG, Rocket Internet, Tiki, and Vat Gia. But of this group, Vat Gia is most well known for its B2B and B2C e-commerce services and has played a decisive role in making e-commerce acceptable and widespread in Vietnam. Vat Gia is considered by some to be worth up to $75 million and may be, prior to the arrival of Rocket Internet, Southeast Asia's largest e-commerce company.
The first six months in Vat Gia
We conducted a long interview with the CEO of Vat Gia, Mr. Nguyen Ngoc Diep, who started the company in 2006 after a trip to Japan.
At that time, in Japan, e-commerce was really taking off. For one year, I saw how the Japanese websites were growing so fast and asked, why don't we have such websites in Vietnam?
It was with this curiosity and passion that inspired Diep to come back to Vietnam and start Vat Gia. He secured an initial angel investment of $200,000 (from IDGVV) and, with no knowledge of IT, no experience in operations management, no experience working with investors, and no connections, started his company.
During those early days, our entire team was made up of people who didn't graduate from university and didn't have any industry-specific skills. And yet, we all were burning with the fire to build an e-commerce site like an eBay, Amazon, Taobao, or Rakuten. We all put our heads down and worked and learned.
His team blew away the entire $200,000 in the first six months of operation. Despite this, by the end of 2009, his company won out. It is still the market leader in e-commerce in Vietnam.
Beating competitors to a pulp
In an interview with Thanh Nien news in 2012, Diep stated outright, "if an international company like eBay attempted to enter a complex market like Vietnam, it would definitely lose to me." It's this confidence and understanding of the Vietnamese market that allowed Vat Gia to go up against twenty different competitors in the space in the mid–2000's. At least ten of these competitors had foreign companies backing them. But when it comes to methodologies, Diep says it was quite humble:
The truth is my methods are quite simple but my competitors just didn't see it. I got to use two big e-commerce sites in Japan, Kakaku and Rakuten, and I took the best aspects of their models and adapted them to the ground here in Vietnam.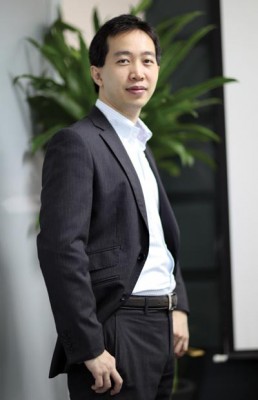 Source: Thanhnien.com
Diep says that there are four main things that his team executed well:
Vat Gia was the first site in Vietnam that built its own database of products, thus making it easy for sellers to upload their products and easy for customers to search.
Vat Gia adapted the rating system of Rakuten, thus allowing customers to review products.
Vat Gia adapted the pay-per-click model from Kakaku.
Vat Gia took a small commission similar to eBay, Rakuten and Amazon.
It's these four points that allowed them to achieve two things:
Vat Gia, due to its rating system, became the central location for quality products. This is a central concern for Vietnamese customers, 70 percent of whom are concerned about quality, according to VECITA.
Due to pay-per-click, it became a central marketing point that brought users in to buy and pleased the sellers.
Vat Gia's competitors missed the mark on these things. This allowed Vat Gia to blaze the trail for e-commerce and its sales team to be the educators for a large group of sellers and stores who did not understand nor were interested in selling their products online.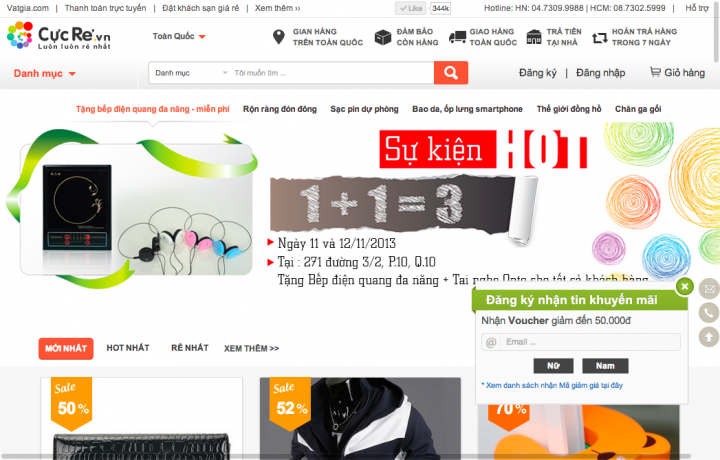 Vat Gia's future in e-commerce in Vietnam
Since the early days of Vat Gia, Vietnam is now experiencing a renaissance in e-commerce with more than thirty sites competing in the space from general to vertical models. Even VNG, Vietnam's most successful gaming company, is entering this space with 123.vn, and of course megaton Rocket Internet is in the game with its millions in Lazada and Zalora. Diep says he is focused on updating the current system (currently the most costly endeavor) increasing the amount of data on products, and updating and increasing usage of Vat Gia's payment system, Bao Kim. Diep thinks that Rocket Internet is out of touch in terms of human resources:
The human resource administration is inflexible because they don't understand local employees. They bring the European mindset and apply it directly into the Vietnamese market without making necessary adaptations to Vietnam's own style. The language barrier causes them a lot of trouble. Doing e-commerce requires mainly low-skilled staff who often don't have English skills. Rocket Internet needs to hire English-speaking staff who are not suitable for the hard work of low-skilled staff, which creates a big imbalance in human resources and cost of operations is high. Revenue can't make up for the expenses.
He also thinks they lack a fundamental understanding of the Vietnamese market:
Retail is a race on low cost, delivering best services, best products at lowest cost. Rocket Internet is familiar with the transparent business style. But they forget that most Vietnamese retailers use the gap in law to reduce the price down by cutting tax. And that is the most important reason for the failure of many big foreign corporations.
Vat Gia's B2C e-commerce platform Cucre.vn makes over 3,000 deliveries per day. For comparison, Giao Hang Nhanh, Vietnam's leading e-commerce logistics delivery service, which serves over 800 local e-commerce sites, was delivering over 700 orders per day in March this year. Vat Gia itself, which is a platform similar to Alibaba, facilitates over 30,000 deliveries per day and has over 1.2 million unique visitors on its site per day.
The future of e-commerce according to Vat Gia
Diep thinks, although there are a lot of competitors in the space, the e-commerce market is "developing too fast and skipping fundamental changes, while it is supposed to make a long-term change from traditional retail to e-commerce retail." So although we're seeing lots of competitors and models for growth, Diep thinks the market isn't ready.
The Vietnamese market has never experienced the hyper-supermarket stage before. Therefore, the local purchasing mindset hasn't followed the current trend, online shopping. Moreover, the space and time restraints prevent e-commerce from getting its deserved position. Delay in money delivery makes consumers and suppliers gradually lose belief in e-commerce. That is why I predict it may take 10 to 15 years for e-commerce to fully flourish in contrast to the common prediction of only one to two years.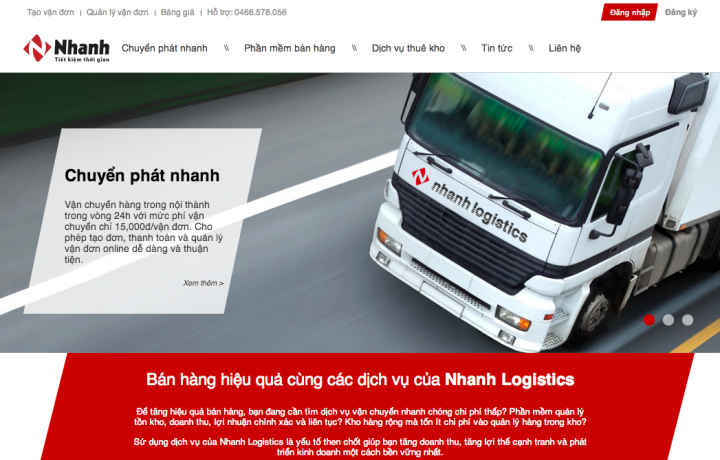 Vat Gia and Vietnam's startup scene
Despite Vat Gia's success, Diep has not sat on the sidelines and isolated himself from the startup scene. Diep works closely with CyberAgent Ventures and has invested in startups in his home city of Hanoi. Some of the sites he funded initially worked to help Vat Gia's services, but he spun them out later. They include the following across a range of industries (Diep has also invested in other companies that he has not disclosed publicly):
* Webbnc.net – A fully packaged e-commerce and shopping cart solution, similar to BigCommerce.com
* Vanphongonline.vn – Literally meaning office online, it's a Vietnamese version of Salesforce.com
* Nhanh.vn – Meaning "Fast", this site competes with Giao Hang Nhanh and Zship in the e-commerce logistics space.
* 123doc.vn – A book and e-book audio platform.
* Pub.vn – An online video platform.
* Suong.vn – A 9gag clone where users can share pictures and videos for fun.
Diep is especially interested in the potential of cloud services like Vanphongonline.vn, which he thinks can provide a more convenient service at lower cost. He sees startups that localize such services to the local market as a key area for growth. He thinks that the startup scene in Vietnam today shows a lot of passion and good ideas, but it also lacks key things that could bring it success: startups don't know how to turn their ideas into money and can only envision a website.
They think about how to make a website, with all these technologies, but when they're asked how they will make money, they answer in a very unclear or ambiguous way. They copy a foreign model but lack creativity and adaptation, so they all die.
But he does have five pieces of advice for young startups in Vietnam:
1. Be realistic. Think about a model that can earn money first.
2. Stay hungry. Always think about cost savings. Minimize costs to survive.
3. Always observe and follow the changes of the market; adapt to the
current market scenario.
4. Always think as consumers. Observe and meet their needs.
5. Don't completely copy successful foreign business models. Learn and customize them locally.
(Editing by Paul Bischoff)
Source: http://www.techinasia.com/indepth-interview-ceo-vietnams-biggest-ecommerce-site-vat-gia/