Classbook Makes Tablets for Education in Vietnam
In the past decade, we've seen our fair share of laptops and tablets for children. The concept went mainstream with Nicholas Negroponte and his One Laptop Per Child program. But now, with the lowering cost of hardware production and the ease of software customization (especially with the Android OS), we're sitting at the cusp of an all new wave of devices for kids.
In Vietnam, Classbook is right on this trend. The small startup started shipping its customized education tablets this February. I spoke to Pham Thuc Truc Luong, the founder and CEO, about the progress Classbook has made and why it decided to tackle this problem in the first place. According to Luong:
"In terms of tablet use for children, parents cannot manage it at home and in schools, teachers cannot monitor how children would be using it. Classbook aims to tackle both of these problems."
The problem lies in the fact that most tablets in the home are used by kids to play games and surf the internet freely, thus cutting down the potential that a tablet has for educational purposes. They're for fun. Thus, tablets miss their full potential. To remedy this, Classbook has built an entire mobile experience around education.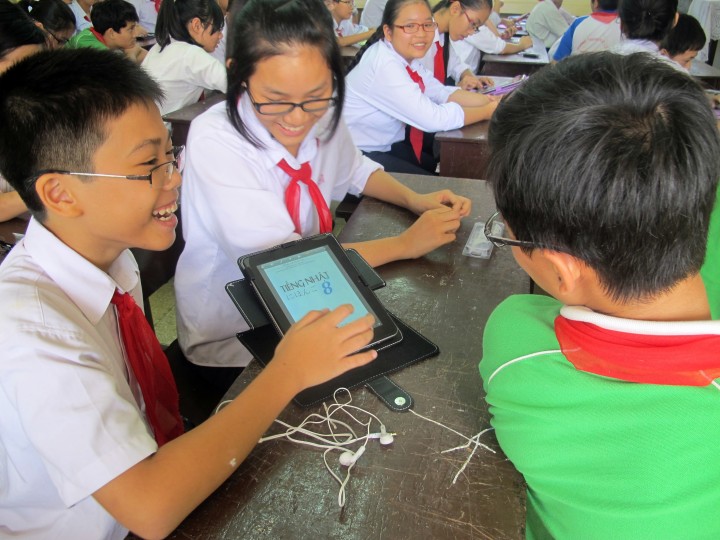 The technical side of the tablet
Classbook works directly with publishers to get textbooks, safely preserving their copyrights, onto digital and interactive versions. This allows parents to forego the need to buy certain physical textbooks, which is really convenient, especially for families that have a hard time keeping up to date with the plethora of textbooks their children have to pick up every semester or year of schooling.
Classbook's team of about 30 people not only manufactures its own 8-inch tablet, which goes for about VND 4.8 million ($230), but they also built a customized Android ROM. The ROM allows parents to be able to control apps, add preloaded content, and monitor their children's online behavior. It currently ships with 300 books from every grade from kindergarten to twelfth grade. It currently sells in participating bookstores around Hanoi, Vietnam.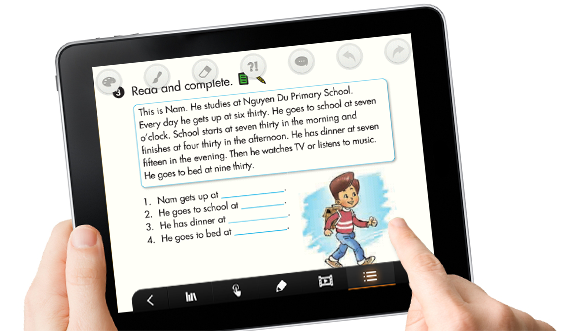 The future of Classbook
It's still quite early to tell if Classbook has experienced any success yet as it's only been about six months since the product was released, but Luong has ambitions to scale. Their first phase is to get the tablet into the hands of parents, and their second phase is to work on the teachers. That means working directly with schools. Basically, getting the tablets into the hands of children in their classrooms. Later on, building on all that, Luong is also looking outside of Vietnam.
Classbook will also be adding more interactive media, including English, music, and literature materials. Luong hopes that Classbook will become a platform for educators to enhance their educational depth and experience by offering media that children can interact with dynamically. This includes getting more narration, audio, and multimedia into the textbooks.
Classbook operates in a market that is particularly difficult for a startup to win in. Education in Vietnam is an entrenched and conservative field that is slow to change. It's therefore going to have to offer a solution that is not only economically viable for families that are not interested in spending more but also offers a clear pathway to better education for their children. The problem is, do Vietnamese parents really understand the potential that these tablets have for their children? We shall see.
August 7, 2013at 2:00 pmby Anh-Minh Do
(Tech in Asia)