E-commerce sector rapidly expanding
Last update 07:40 | 25/04/2014
VietNamNet Bridge – Vietnamese e-commerce sales are expected to hit more than US$4 billion in 2015, thanks to growing internet users, reports the Viet Nam E-commerce and Information Technology Agency (VECITA).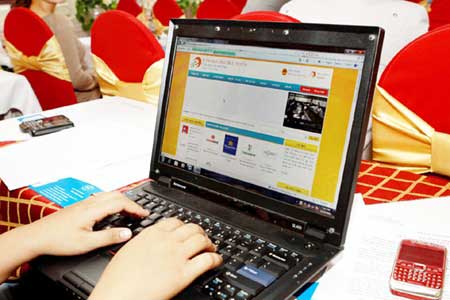 A person shops online via an e-commerce website. Vietnamese e-commerce sales are expected to hit more than US$4 billion in 2015.
According to VECITA, which comes under the Ministry of Industry and Trade, the value of e-commerce sales in Viet Nam is estimated at $2.2 billion with an average spending of $120 per capita last year.
Viet Nam currently has more than 30 million internet users. According to this report, VECITA has forecast that by 2015, Viet Nam will have between 40-45 per cent of its population using the internet. With a rapid pace of economic development and growing trend in internet use, a Vietnamese is estimated to spend at least US$150 on e-commerce purchases per year, bringing an estimated revenue of $4 billion in 2015, cited VECITA.
With a population of 93 million, the ratio of Internet access for online shopping at 70 per cent will bring a revenue of approximately $4.3 billion. With a ratio of 65 per cent, it will reach $4.08 billion, and if the ratio is lower than 60 per cent, it will reach $3.7 billion.
There are 61 per cent online buyers reported in 2013. Some 51 per cent of group purchasing websites and social networking websites accounted for 45 per cent and 19 per cent customers buy products through e-commerce.
In addition, the percentage of online shoppers via applications installed on mobile devices reached 6 per cent.
Of the total online shoppers, around 59 per cent are women and 41 per cent are men. In terms of occupation, managers and state employees are regular online buyers, accounting for 41 per cent. According to the report, this group is usually pressed for time, so they usually access the internet for online shopping.
It is followed by students with 37 per cent and those directly involved in business and production activities, accounting for 7 per cent.
The major products sold online were fashion and beauty related products at 62 per cent, furniture and electronics technology at 35 per cent, home appliances at 32 per cent, and airfares at 25 per cent. In Viet Nam, cash-on-delivery remains the most popular payment method used by clients after they ordered products online, which accounted for 74 per cent. Bank transfer accounts for 41 per cent, card payment accounts for 11 per cent, scratch cards accounted for 9 per cent, and only 8 per cent used electronic wallets (e-commerce payment gateway provided by a third party).
VECITA's report revealed that currently, 10 most popular sites frequented by internet users were Vatgia.com, Alibaba.com, Ecna.vn, 5giay.vn,123mua.vn, Enbac.com, Chodientu.vn, muaban.net, Rongbay.com, and Ebay.vn.
However, Nguyen Hoa Binh, the general director of Peacesoft noted that taking into consideration the vast population, Vietnamese e-commerce companies are tapping aggressively into a particular market of buoyant consumers, but he found that many e-commerce businesses have exploited the legal loopholes in e-commerce transactions to swindle customers, thus leading to discontent among online buyers. As a result, many customers decided to return back to the traditional way of shopping.
Sharing this opinion, Tran Anh Tu, the manager of HC online electronics market stated that the unprofessional and disreputable behaviour of some e-commerce businesses have badly affected the reputation of authentic companies.
Buyers are uncertain whether they will receive their ordered products after transferring money to these companies, Tu added.
Source: VNS