Topica Founder Institute, the accelerator behind Appota's rise
April 15, 2014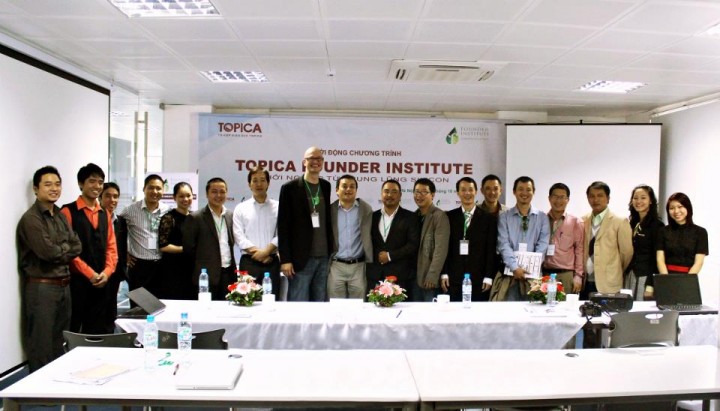 Topica Founder Institute (TFI) is one of the more prominent and successful accelerator programs out of Hanoi, Vietnam's lake-filled capital. And its recent claim to fame is accelerating Appota, which graduated from its 2012 batch of startups. Appota just secured a series B investment from Japanese and Singaporean investors, employs over 100 people, and is set to launch multiple products globally. Appota specializes in building mobile content platforms.
TFI also accelerated a number of other interesting startups in Hanoi, including HSP Yton, a doctor appointment app and a graduate of the 2013 batch. It raised a large series A round from SMS, a Japanese healthcare IT company. HSP Yton now employs more than 100 employees and is set to scale into Ho Chi Minh city.
Other promising small startups out of TFI include shoe ecommerce site Giaytot, a POS system called S3, and DeltaViet, an online education provider like Udemy. In total, TFI has graduated 16 startups in Vietnam.
Topica, the startup currently running the Topica Founder Institute, is about to launch another batch for 2014. Topica, for those not in the know, is an online education startup that recently released an English course that utilizes Google Glass. Like Founder Institutes across the world, it includes a 15-week program with over 30 mentors, workshops, and modules that teach young entrepreneurs what it takes to create a startup. This year, Topica Founder Institute will accept 30 startups.
Pham Minh Tuan, the founder and CEO of Topica, remains optimistic about Vietnam's startup climate. He should, considering one of his accelerated startups just got a large series B investment:
"In 2013, 25 tech startup investment and M&A deals were closed in Vietnam. Startup investing is not slowing down, although deals are smaller. Success stories from the first wave of startups are encouraging a second wave of startups in Vietnam, as well as helping to improve the startup ecosystem here. There are three new funds that set up offices in Vietnam in Q1 2014 alone, and dozens of investors coming back and forth to find deals after 2 years of chilling. We have met many amazingly talented, hungry, and foolish founders, and are very excited to help them find and implement their killer biz models. Our Co-director team for batch three will bring fresh energy and complementary skills to ensure this: Tran Manh Cong is a veteran TFI Co-Director; Mai Duy Quang is founder of Biaki, a TFI grad, and passionate startup community organizer; and Nguyen Lan Trung Anh is a well-networked venture capitalist from IDG Ventures."
Editing by Paul Bischoff
Read more: Topica Founder Institute, the accelerator behind Appota's rise http://www.techinasia.com/topica-founder-institute-vietnam/